The latest round of defense contracts include the confirmation of a tenth Block V Virginia-class submarine to add to the original contract awarded by the U.S. Navy in 2019 to General Dynamics Electric Boat.  When it comes to reliable surge protection of the vessel regarded as the U.S. Navy's foremost undersea platform in stealth, intelligence gathering, and weapons systems technology, power supply subcontractor Wilorco knew where to turn.  The MAX-260 Power TVS Diode from MDE Semiconductor, Inc. will sail ahead with Wilorco's power supply to protect mission critical components from catastrophic power anomalies.
Find out more about how the Navy's nuclear subs are at risk for critical voltage transients, what standout upgrades are expected from the Block V fleet, and how the MAX-260 Power TVS Diode functions as high current circuit protection on board.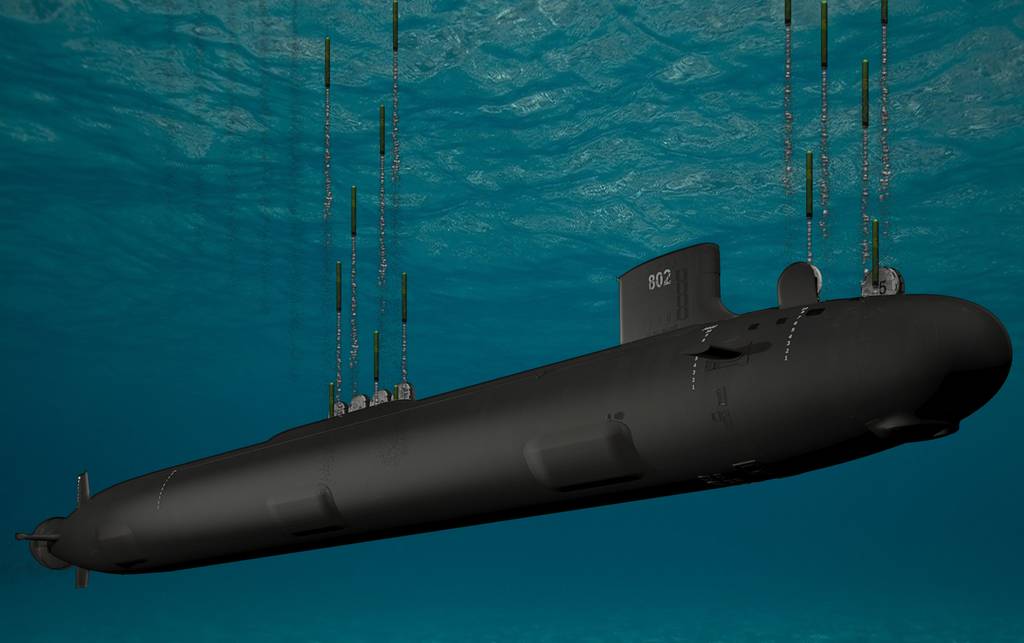 A rendered image of the Virginia-class Block V attack submarine, which is destined to change undersea warfare. (Courtesy of General Dynamics)
About the Virginia-class Block V Attack Submarine
The Virginia-class Block V attack submarines have been designed to replace the Los Angeles class of submarines, first commissioned in 1976. 30 of the original 62 Los Angeles vessels have already been decommissioned, leaving 28 still active. 
This new class of subs are designed as broad-spectrum vessels appropriate for both open-ocean and near-shoreline agility.  including anti-submarine warfare and intelligence gathering operations. The Virginia, or SSN-774 class, are nuclear-powered and equipped with cruise missiles, applicable in supporting forward presence, intelligence gathering operations, anti-submarine warfare and deterrence.
Virginia Payload Module
In addition to the 12 Tomahawk missile launcher on the bow, the additional 10th Block V Virginia-class submarine will include the Virginia Payload Module, an 84-foot section of the boat that will serve as an undersea vertical launcher for missiles. Advancements in hypersonic missile technology have made these upgrades possible, allowing the VPM amidships a capacity for a total of 40 cruise missiles. 
Technological Challenges
The design and construction of this new fleet have not been without challenge. Certain technology barriers threatened to drive the cost over the threshold. But, thanks to a program in collaboration with the Defence Advanced Research Projects Agency, or DARPA, these challenges have been faced head on. Some of those challenges include:
Propulsion concepts not constrained by a centerline shaft.

Externally stowed and launched weapons (especially torpedoes).

Conformal alternatives to the existing spherical sonar array.

Technologies that eliminate or substantially simplify existing submarine hull, mechanical, and electrical systems.

Automation to reduce crew workload for standard tasks
Electrical Challenges: How Power Surges & Anomalies Threaten Subs
In designing modern naval crafts, engineers have to bear in mind the propensity for electrical surges and transients. The most obvious coming to mind being, of course, lightning.   Anyone whose parents didn't let them swim when lightning was in the area knows that lightning is attracted to water. So, since storms are a regular occurrence at sea, and submarines are giant metal vessels surrounded by water, one might expect submarines to be a target of the occasional lightning strike.
However, when lightning strikes the ocean, the current travels only about 20 feet or less. Unlike surface ships, a submerged vessel wouldn't likely feel much effect from the electrical surge. (Now, if the sub were surfaced, its radar antenna would absolutely become a target for lightning. Have you seen Down Periscope?)
Furthermore, while the hull and decks of the submarine are steel, the decks sit on rubber plates, effectively isolating the deck electrically from the rest of the boat.
In fact, the more practical transient threats come from within the ship itself.  
"A fighting platform such as a ship or submarine is bristling with electronic warfare systems, communications systems, radar, sonar and many electrical power systems-to name but a few," explains R. M. Turner in his study Surges, transients and naval systems.   "All of these can potentially emit high powered electromagnetic waves which can so easily interfere with other items of equipment fitted on board." 
Conducted transients can interfere with or even cause catastrophic failure of all types of onboard equipment.  "Sources of such transients are numerous and include lightning, electrostatic discharge (ESD), nuclear electromagnetic pulse (NEMP) and transients caused by load changes and inductive switching of 440 V 60 Hz and other main power supplies." 
"The most efficient method of protection against spikes and transients is the installation of surge protection devices (SPDs)." 

Sofras
For the Wilorco power supplies on board U.S. Navy Virginia class subs, that surge protection device will be the MAX-260 High Current TVS Diode from MDE Semiconductor, Inc.
Wilorco Power Supply On Board Virginia Class Subs
Wilorco has been an award winning supplier of high reliability power supplies to the Military and Prime Contractors for over 50 years. The company has been subcontracted to provide MIL-STD power supply for the Virginia class submarine. (As well as the F-18, Phylanx, and NASA Voyager, to name a few.)
Wilorco power solutions are qualified to various requirements defined in MIL-STD-810 (Environmental Test Methods), MIL-STD-461 (EMI), MIL-STD-901 (High Impact Shock). Their device magnetics are designed to MIL-PRF-27 and conformal coating meets IPC-J-STD-001, IPC-A-610 or NASA-STD-8739.1. Their power supply was selected based on their capability to supply rugged power conversion products utilized in harsh environments throughout the world. 
MAXPak ™ Series Power MAX-260 High Current Power TVS Diode
Providing ESD protection to those power supplies is the MDE Semiconductor, Inc. Max-260. 
MDE Semiconductor, Inc. is an innovative, quality oriented device manufacturer with a Single Minded Focus on Circuit Protection Products. Our Transient Voltage Suppression (TVS) Devices are designed specifically for the protection of electronic systems from the destructive effects of Lightning, Electrostatic Discharge (ESD), Nuclear Electromagnetic Pulse (NEMP), and Inductive Switching. All silicon devices are constructed with our famous low leakage glass passivation process with high-energy absorption capability from 400 watts up to 288,000 watts. 
The MDE Semiconductor, Inc. MAXPak High Current TVS Diode Series are rugged devices for land or sea and meet MIL-STD 1275 and MIL-STD 1399 Section 300 B requirements.
Our TVS devices exhibit a variable impedance depending on the current flowing through them (or the voltage across their terminals). During normal conditions, these devices have a high impedance and therefore appear "invisible" to the circuit. However, in the presence of a transient voltage, they divert the transient away from the load (shunting), thereby, putting a clamp on the residual voltage.
The reasons TVS diodes are so effective in these types of situations include:
They respond almost instantaneously (picoseconds) to transients (faster than varistors).

TVS diodes have high impedance, so they act like open circuits during normal operating conditions (have low current leakage).

They do not degrade, provided they are operated within the limits for which they are designed.

They are manufactured in a variety of surface and through-hole circuit mounting options, making them perfect as board level protectors.

TVS diodes have low clamping voltages, making them ideal for sensitive circuits operating at low voltages (e.g., microprocessors).

They also protect circuits from Electrostatic Discharge (ESD)
 For more information or mechanical specs on the MAX-260, view the data sheet here.
Delivery of the first Virginia Block V submarine is expected to take place in fiscal year 2025.
"We are pleased that Congress supported the restoration of funding for the 10th Virginia-class boat in Block V," Jason Ward, vice president of Virginia-class submarine construction at Newport News Shipbuilding, said Monday. "We look forward to building and delivering the final boat of the block that maintains production at two submarines per year and continues to stabilize the industrial base," Ward said in the press release.