TVS Diodes: Circuit Protection Applications in Critical Military Weather Data Sensors
Circuit protection devices from MDE Semiconductor, Inc. are utilized in electronic components with a wide array of applications. Aerospace, telecommunications, and healthcare devices are just some of the industries that depend on industrial-grade electronic protection from components such as TVS diodes. But we have a particular penchant for working with military and defense contractors.
MDE Semiconductor, Inc.'s TVS diodes have been sourced by Lockheed Martin and Wilorco in use from ships to aircraft, to name a few. And in past articles, we've extrapolated potential applications of our devices for use in military drones, augmented reality, and data collection sensors. Sensors housed inside drones, satellites, marine systems, and combat and reconnaissance vehicles will detect everything from the presence of threats and the activities of enemy forces to the nature of an environment and weather conditions.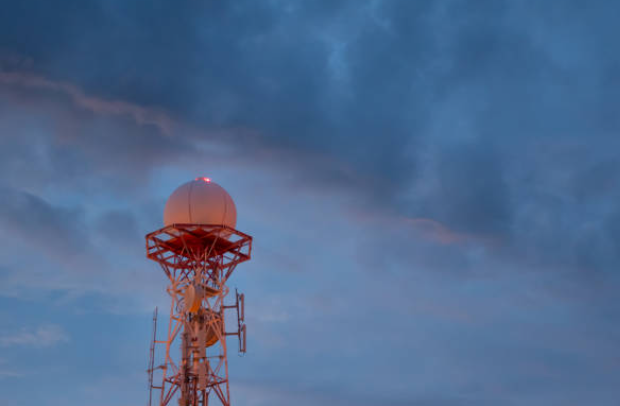 And when it comes to weather conditions, our military – the Navy in particular – is always pressing forward with the next generation of technological capabilities.
Last month, a personal moment while spending time with family over the holidays brought this angle of military operation from theory to reality. One that relies on critical minute-to-minute data in some of the harshest environmental conditions to which electronic components can be subjected. I'm talking about the U.S. Naval Meteorology and Oceanography Command (METOC).
You see, my brother is CDR Dominic DiMaggio, the Senior Meteorology and Oceanography Officer at U.S. Indo-Pacific Command for the US Navy. During our recent visit with him at his home in Pearl Harbor, he was having to constantly monitor the development of a series of typhoons in the Pacific Ocean. We learned that part of his role includes a round-the-clock responsibility to keep METOC abreast of potentially catastrophic storm development anywhere in the Pacific.
What really piqued my interest in the conversation that followed long into the night, was realizing the variety of roles METOC plays in not just military maneuvers, but also in scientific and civilian communities. It had never occurred to me how far-reaching the responsibilities of being a meteorologist and oceanographer for the U.S. Navy could be. What's more, the accuracy and precision on which weather sensing systems depend in order to deliver the most accurate, moment-by-moment modeling predictions is staggering.
That night, over the course of a few hours, we held our breath to see whether a storm changing course by just a few degrees would cause not just an interruption of our holiday dinner, but in the daily life of a certain community in Southeast Asia. Fortunately, that evening, the storm stayed on its predicted track and dissipated at sea, but I couldn't help thinking about the pressure and reliability required of weather data sensors depended on by the US Naval Meteorological and Oceanographic Command team.
Depending on Weather Sensors
Within METOC, there are three main branches, each with a different application of weather data collected by sensors:
The Joint Typhoon Warning Center (JTWC) is the U.S. Department of Defense agency responsible for issuing tropical cyclone warnings for the Pacific and Indian oceans.
The Fleet Numerical Meteorology and Oceanography Center (FNMOC) provides the highest quality, most relevant and timely worldwide meteorology and oceanography support to U.S. and coalition forces from its operations center in Monterey, California.
The Naval Oceanographic Office (NAVO) maximizes sea power by applying relevant oceanographic knowledge in support of U.S. National Security.
Together, these branches of METOC are responsible for:
Providing weather and ocean prediction products in support of Fleet Safety and Warfighting Effectiveness
Providing tailored oceanographic, hydrographic, bathymetric, geophysical, and acoustic products and services to DoD customers worldwide that aid in safe navigation and effective mission planning
Operating the nation's only global NWP model meeting DoD cyber security standards
Providing 24/7 support for Naval operations worldwide
Optimizing sea power by applying relevant oceanographic knowledge in support of U.S. National Security
Their teams assure the Navy's oceanographic knowledge superiority and reduce risk by providing the forecast battlespace through smart collection, focused analysis, and responsive delivery.
To fulfill each of these roles, METOC depends on reliable, mission-critical sensors to record data on a second-by-second basis. Some of these sensors are located within the Airmar PB200 Weather Station, the Teledyne RDI Acoustic Doppler Current Profiler (ADCP), the Datawell MOSE-G GPS-based Directional Wave Sensor, and the Sea-Bird GPCTD + DO. These sensors are constantly monitoring wave sizes, chemical analysis of water, conductivity, temperature, density, currents, barometric pressure, and more.
And, as you can imagine, some of their most critical moments of delivery are during the worst types of weather, leaving electrical components vulnerable to threats of power surges and anomalies.
The Unique Electronic Component Requirements of Military Sensors
The source of military data capture must be reliable. Data sensors need to be versatile and scalable. A variety of military sensor technologies are used to fulfill this critical need.
A point of failure for these types of devices is their electronic components that are susceptible to power surges. These sensor units are often exposed to harsh environments and must face the elements, leaving them at the mercy of lightning strikes and the effect of close lightning strikes. High-performance components make sure the sensors stand up to the most unfavorable conditions, ensuring they can function reliably throughout extreme weather, complete darkness, fog or dust, etc.
The key to such systems comes from small, yet powerful, integrated circuitry. TVS diodes are desirable protection devices for many sensor scenarios in the battlefield. They are characterized by low capacitance (when signal integrity is important} and fast responses to overvoltages. More importantly, they do not degrade in the course of protecting against energetic events like MOVs do for instance. TVS diode operation involves the clamping of overvoltages in order to protect the load in parallel.
MDE Semiconductor, Inc. manufactures a wide range of TVS devices for military application. Tested rigorously to meet military standards, our products have found use in many devices today.
Protecting a Sensor System from Electrical Transients
Surge pulses in a printed circuit board (PCB) can be destructive when the spike exceeds the absolute maximum (abs max) ratings of the integrated circuit. Therefore, protection is critical. Depending on a variety of factors, including design and operational mechanisms, protection might be required on interface lines.
It is also important that any protective devices do not interfere with the normal operation of the sensor system and its electric components. The protection devices should remain idle under these conditions. A TVS diode acts as an open circuit so that signals and data are fed through without errors. TVS diodes are typically placed in parallel to the circuit. When a TVS diode activates, it limits the voltage across the protected circuit. MDE Semiconductor, Inc. produces a range of TVS diodes for different voltage, power, or form factors, as well as designed in many different configurations.
MDE Semiconductor, Inc. offers a variety of circuit protection solutions used in military grade smart sensor systems.
Sensors are used everywhere in the military. They provide measuring, monitoring, and execution capabilities for the defense ecosystem. They are critical for delivering critical, time-sensitive, high-security data that, in turn, helps our military outmaneuver its adversaries.
From tiny, hidden sensors for covert carrying by individual soldiers, to all-weather environmental sensors, sensor circuitry calls for lightweight, miniaturized materials that must use power efficiently. TVS diode operation guards these complex circuits against destructive energy spikes.
MDE Semiconductor, Inc. designs and manufactures circuit protection devices used in sensor applications that are RoHs and REACH compliant.