The MAX15KA Family of MAX Power TVS Diodes
The SMDMAX15KA Series MAX Power TVS Diodes are designed to offer clamping characteristics superior to those of standard silicon avalanche diode (SAD) technologies. This superior performance is made possible by MDE Semiconductor, Inc. MAX-Avalanche™ technology which provides clamping voltage lower than the avalanche voltage but above the rated working voltage. As a result, any voltage rise due to increased current conduction is minimized.
This TVS can be connected in series and/or parallel to create a variety of flexible protection design solutions. As seen in the following: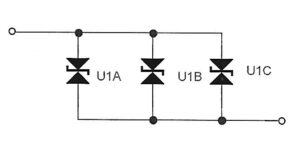 This parallel combination of SMDMAX15KA-33CA will satisfy the requirement of 62 V for an 8/20 pulse of 45 kA.
Any mounting type can be used, but when installing the current path must be in on one end and out the other.
Or
This series combination of SMDMAX15KA-58CA will have a rating of 300V  for an 8/20 pulse of 15 kA.  The ratings and selection must always consider the max ratings of the device and what is required to be protected.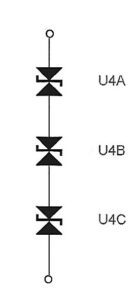 And finally this series parallel combination
It is composed of 3 series elements of SMDMAX15KA-66CA and this combination will provide a protection of 360v for an 8/20 pulse of 30 kA. The intermediate stages should be connected together and the input and output should be so they are opposite.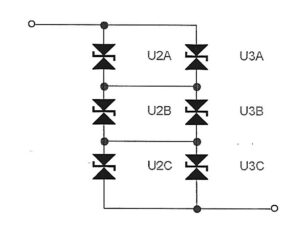 They provide the same enhanced quality, easy manufacturing and compact mechanical design found in the company's MAX Power TVS Series Diode families. Additionally, because they are offered in a Surface Mount Package, they allow circuit designers to save even more circuit board space. This Surface Mount Package is ideal for automatic pick and place assembly and reflow processes, allowing for a lower manufacturing cost and great soldering quality than axial leaded packages.
Typical applications include transient over voltage protection for Aerospace and Defense including RTCA / DO-160 Airborne Equipment, and Shipboard MIL-STD 1399 Section 300B requirements, as well as industrial Transient Voltage Surge Suppressors (TVSSs), Cell Tower Base Stations, and Railway Signal Controls.
This Brief just provides some options for this MAX15KA family of TVS devices and will be updated as additional applications are published.
The MAX15KA Family of MAX Power TVS Diodes offers 3 packaging options:
The typical ratings of these components are: